Contact Information
To get in touch with us, please email using the relevant email address below. We will respond to your query as soon as possible. Please note the Support Office hours are Monday - Friday, 9:30 am to 5pm (excluding Bank Holidays, when our office is closed). If this is an emergency or a query our stores can help you with. Store contact details and opening hours can be found below.
Lynch's Pharmacy Online
St. Oliver Plunkett Street, Oldcastle,
Office Hours
Monday - Friday

9:30am - 5pm
Got Any Questions?
Use the form below to get in touch with the sales team
---
Our Stores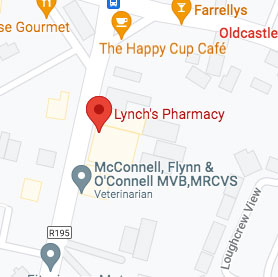 Lynch's Pharmacy Oldcastle
St. Oliver Plunkett Street, Oldcastle,
Contact Number:
Contact Email:
Store Hours:
Monday - Saturday 9am to 6-30pm
Sunday - Closed
View Map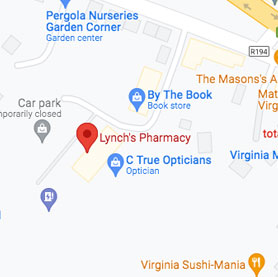 Lynch's Pharmacy Virginia
R195 Rahardrum, Virginia,
Contact Number:
Contact Email:
Store Hours:
Monday - Friday 9am to 6:30pm
Saturday - 9am to 6pm
Sunday - Closed
View Map